Celebrity Census — Just For Fun
One of the most fascinating things about the United States or any other Census is that these historical documents contain the names of everyone — famous and imfamous, well known or obscure. Some people had already achieved noteriety when the census enumerator came knocking, others would become known years or even decades later — either because of their own actions of those of their descendants.

Some of the names, however, may not be exactly what they seem. We've found entries for Minnie Mouse, Joe Cool, Ping Pong, Harry Potter, and many more. In fact, we recently shared details about a number of special finds in time for the upcoming holiday season. Read about our Santa Clause and other holidays finds.

This is our most popular category to date with over 240 entries in this category alone!! It will be a lot of work to get them online, but we'll keep you laughing every day of the year, that's for certain!!
Other Useful Sites for Genealogy
When conducting family history research, you will quickly realize that no one source can answer all your questions. This is true for original source material, physical archives, and those archives that have been digitized and transcribed for searching via the Internet.

While this site is focused on Celebrity census, there are a host of other record types and Web sites that may be of interest. Here are some of our favorites: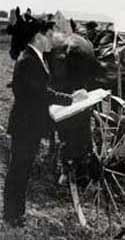 ¤ 1930 Census - Free tips for researching census records
¤ Census - Overview of US 1790-1940, Canada, & UK
¤ Genealogy 101 Tips for Beginners & Free forms
¤ NY Arrivals Searcing NY passenger arrivals
¤ Vital Records Tips at Genealogy Worldwide
¤ Ellis Island The Statue of Liberty-Ellis Island Foundation
¤ American Immigrant Wall of Honor at Ellis Island
¤ New York Passenger Lists, detail about the Port of NY
¤ SteveMorse.org One Step Search Tools
¤ Castle Garden
¤ APG Assoc. of Professional Genealogists
¤ LDS Church The Mormon Church
¤ Eastman's Online Genealogy Newsletter By Dick Eastman